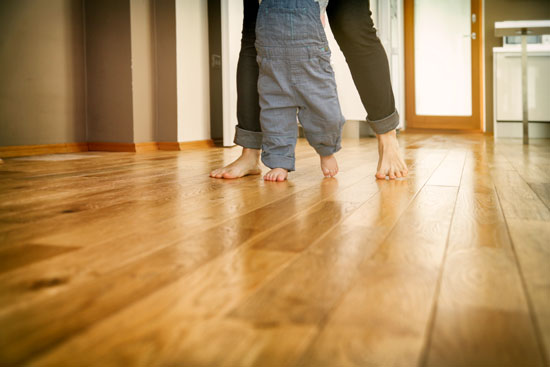 How to Order Flooring: Choosing a Wood Type
The first step is choosing a wood type for your new floors. Wood species will exhibit a wide range of visual characteristics, such as the color of the sapwood and heartwood, and the frequency of knots and pitch, which determines their grade. They also have differing levels of hardness and softness, and other unique attributes. In addition, each species has available flooring options like joint, pattern, sanding and nails.
Grades, Joints and Patterns
When choosing the perfect wood species for your new space, it's important to consider the final look and function of your floor. This will help you find the right grade, joint, and pattern for your flooring project.
The grade of wood is determined by coloring and allowable "defects" such as knots. We offer standard grades of Country, Select and Prime. Not all grades are available in each type of wood, and some types of wood have additional grades.
The joint describes how the boards fit together, while the pattern provides decorative shaping along the top edges. Once you've determined a joint and pattern for your flooring, you might consider pre-finishing options to help make your job easier, like end trimming, sanding, sheen and stain. Nails are required for flooring with a Square Edge joint, and recommended for any flooring 10″ and wider. We can also provide cut nails as needed to finish up your order!
Joint: How the boards fit together
Pattern: Decorative shaping along the top edges
Pre-Finishing: End trimming, sanding, sheen levels, nails
Calculate the Square Footage
Okay, you've decided on a gorgeous wood species for your new floor. You've also chosen a grade, joint and pattern, and took advantage of our convenient pre-finishing options. Now it's time to accurately calculate the square footage of the space. Don't forget to add a waste factor if you haven't already − we recommend 5-10% for our Prime and Select grades, and 10-15% for our Country grade.
This is the ideal time to consider preparation of your space, and acclimation of your flooring prior to installation.
Products to Complement Your Wood Floor
If there are any products you would like to complement your wood floor, now is the perfect time to add them to your cart! Accent your wood floors with:
matching stairs and handrails
dramatic wood paneling
custom picture frames
and more!
Questions about placing your flooring order? Feel free to contact us or request a quote online, and our experts will happily answer your questions and facilitate your order placement.