A critical part of the wood flooring installation process is making sure that your flooring material is handled and stored properly. It's tempting to want to install your beautiful wood floors immediately after they arrive. But remember that wood flooring needs time to acclimate to the humidity of your living environment. This process lessens the amount of shrinkage or expansion, which prevents potential problems later, like buckling, cupping or warping.
Wood is "happiest" at about 40% Relative Humidity, plus or minus 10%. An unconditioned basement, or a room where plastering or sheet rock is being taped is NOT an acceptable environment. Wood is a sponge and will eventually equalize to whatever conditions it finds itself in. Too much moisture will expand the boards, and when they dry out in the middle of a dry winter you will find unsightly gaps.
On delivery day the driver will provide "stickers" – small pieces of wood approximately 3/8″ thick and 1″ wide – to be inserted between each row of planks as they are stacked. Instructions for their use will be provided and the driver will be glad to assist you in determining the best way to ensure that air flow will be provided and proper support given.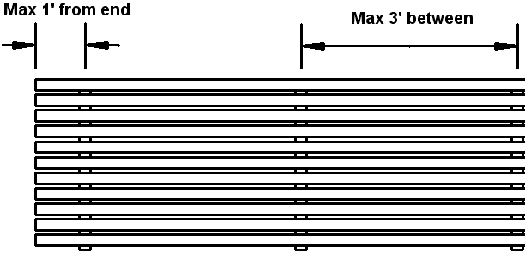 Once on stickers you should allow the wood to sit for 10 days to 2 weeks to acclimate to the surrounding environment, which is why it is important that your house be as close to living condition as possible.
Please note: Prefinished flooring does not need to be acclimated in the same way. See our Pre-Finished Flooring page.
If you have any questions or concerns about the acclimation of your flooring, please contact us.