Hardwood floors are a timeless option for your home because they never really go out of style. There are many hardwood floor colors to choose from, depending upon the species of wood and what finish you select.
According to designer Kaitlin Madden, popular hardwood floor colors for 2023 include: light brown hardwood floors such as pale pine and bleached oak, mid-toned brown hardwood floors, and dark hardwood floors. For a more modern hardwood floor, try black hardwood floors such as black walnut, black maple and black cherry.
Grey hardwood floors are expected to decrease in popularity, as more people gravitate towards warmer tones. Don't let that discourage you, however, if you love the look — just consider adding a warmer-toned accent rug or furniture if you're staging to sell.
Plan Your Color Scheme
Whatever your style, you can create a color scheme that highlights wood's beauty. First, consider whether you wish to play with bold contrasts or more subtle pairings.
Creating a stark contrast with modern hardwood floors can highlight one element of your décor. If not done carefully, however, it can make a room look busy or crowded. Choose only one or two points you want to spotlight, and keep furniture arrangements minimal and tidy.
On the other hand, if you have a small space you want to keep from feeling crowded, subtle pairings of colors can help furniture blend in. Look for colors of similar intensity for a more low-key, balanced look.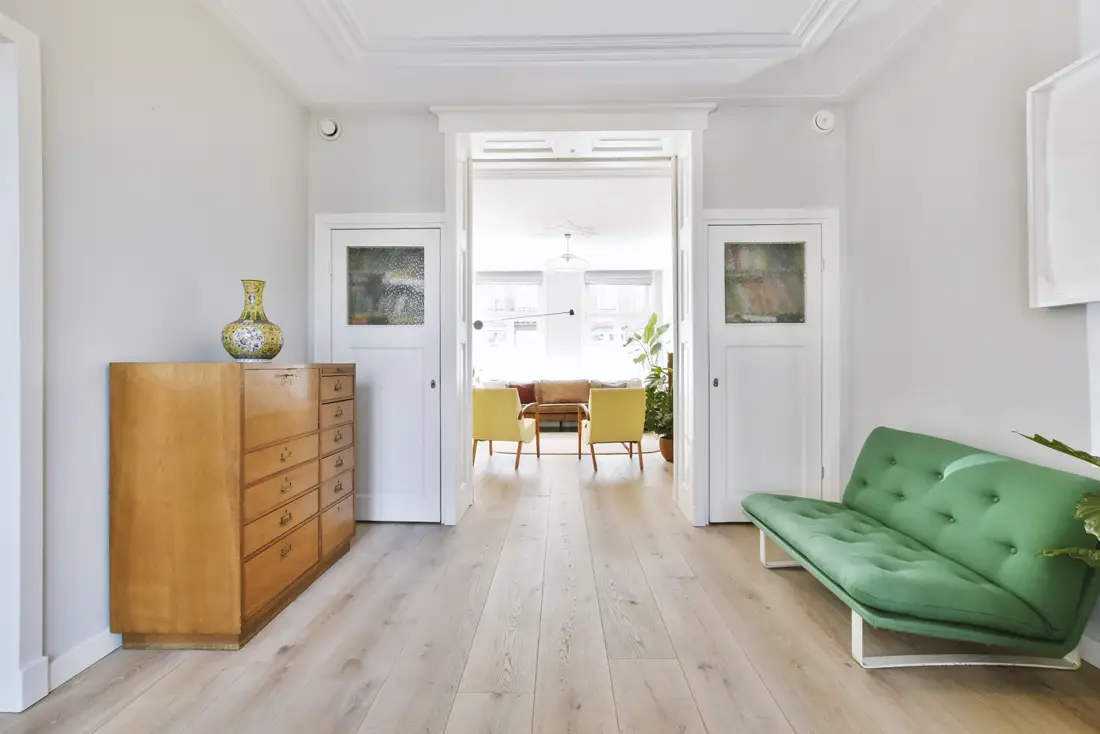 Hardwood Floor Colors by Species
For a sharp contrast in rooms with lighter colors, consider dark hardwood floors in Walnut or Cherry. If the walls are darker, choose light brown hardwood floors like Ash or Maple.
Keep the color of the walls in mind when choosing your wood species. For a deep green room, a red tinted wood like Cherry or Birch will appear rich and bold. Orange-toned woods are a good choice for contrast against deep blues. In a warmer red room, use a more golden-yellow wood like our Southern Yellow Pine.
For a more subtle statement, Pine also goes well with earthy medium greens and buttery yellows, which bring out the wood's yellow tones. Warm neutral colors pair invitingly with medium brown woods like Oak.