We offer many options to fit any workflow, budget or need.
Finish
All of our mouldings are stocked without any finish applied, and in fact this is how the bulk of our moulding is ordered. However, we offer many different finishes, depending on the species, which will be produced per order. This typically takes an additional 1-3 days depending on finish type and workload. See this page for a full list of descriptions and pictures of our different options.
Cut Type
Length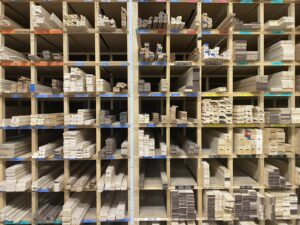 The least expensive, and most flexible option, length is the way to order when you have multiple frames to make, or want to have stock on hand for future orders. Length is sold as a random assortments of sticks that range from 4′ to 8′ long (up to 10′ in larger profiles), with a minimum order quantity of 20′. We have the following quantity tolerances:
up to 75 feet   -1' to +4'
over 75 feet    +/- 5%
Please note: our moulding is made from a natural product, and pieces vary in color and grain; length orders are put together without any type of matching, so please be sure to order plenty extra if that is important for your project. Also, we do not accept orders for specific lengths in this category; if you want to order specific lengths, please see the Straight Cut Chop section.
Straight Cut Chop
This option gives you the opportunity to specify a frame size, and be assured that the pieces you receive will be exactly the size(s) you need, with matching color and grain. Order according to the Frame Dimension desired, and we will calculate the amount needed to add for the miter and allowance, plus 1/2″ so you can trim a bit off each end.
Mitered Chop (default when specifying frame dimensions)
Similar to the Straight Cut Chop, but we miter to the size specified, plus allowance (1/8″ is default on most profiles, but you can specify otherwise if desired).
Add Hoffmann Dovetail
On Mitered Chops, you have the option of adding the Hoffmann Dovetail. This provides a ready to assemble frame with no tools other than a hammer. See our more detailed post here for more info.
Chop and Join
We use the Hoffmann Dovetail system to join a raw or pre-finished Mitered Chop. Please note, additional packaging charges apply, and UPS costs are likely to be higher with this option.
Finished (Splined) Corner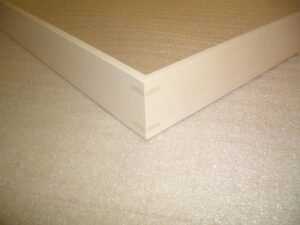 Raw moulding is first mitered and joined, then slots are cut at a 45° angle in the outside corners and strips of wood called splines are inserted. Once the glue has dried the excess spline material is trimmed off, sanded smooth, and then the completed frame is topped with the finish of your choice. Splines can be made of matching or contrasting wood, but even if the matching wood is chosen they will still make a subtle statement since the grain is more like end grain and will take the finish differently. On a painted frame, the end result is as if it were machined out of a solid piece, with no visible joints anywhere. Please note, additional packaging charges apply, and UPS costs are likely to be higher with this option.
Measuring Tips
The FACTS organization has developed quite a few standards relating to the picture framing industry, the one most relevant to our business is FRM_397 – ordering frames and chops. This is the standard we follow, so if you have any questions about what measurement you should provide us when ordering chops or frames, please take a few minutes and familiarize yourself with this document.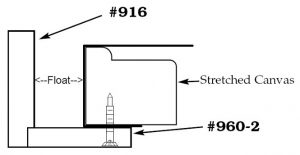 Please note that this standard was established over 20 years ago when L-Float frames had not come into vogue. So we will just say here that all of our L-Float frames (items 916 and greater) are cut to exact sight size. Therefore you need to add your desired float space (remember – times 2) to your canvas size.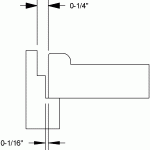 Step floaters (900-902) are another option. We cut them with a standard 1/8″ allowance which results in a 1/4″ gap between the inside edge of the face and the edge of your canvas. Like with all our mouldings, you can specify a different allowance if you like, but you are responsible for ensuring that all the pieces come together as expected.